With businesses facing unprecedented demand, locals should plan ahead for lower prices and speedy installation
Article content
The heatwave that gripped Calgary last summer sparked many to consider the importance of air conditioning in their homes during an era of changing weather. Many Calgarians, unfortunately, were left to endure the sweltering temperatures as local companies struggled to keep up with the demand.
Article content
"It caused demand like I've never seen in my 30 years in the industry. It was absolutely insane," says Dareck Makowski, owner of Furnace Family, which offers complete home heating, ventilation and air conditioning installation and services.
Makowski says Furnace Family was booked up a month in advance with estimates taking up to three weeks. In the interim, people began to panic, having expected to have air conditioning installed right away.
According to Makowski, anyone contemplating an air conditioning system should act now and get things rolling. "The season has already started for us. We were installing air conditioning systems by early February and are now booked out about a week in advance." He also contends that the sooner people have them installed "the less you're going to pay, since we've already had two prices increases on equipment."
Article content
Statistics Canada indicates only about one-quarter of Calgary homes have air conditioning, which means it's likely to be another busy season of installations for local businesses.
While many Calgarians lined up last summer hoping to purchase cheap portable or wall-mounted air conditioners, Makowski says those "window shakers" — as they are known in the industry — are extremely inefficient and not a long-lasting solution to the searing summer weather.
Instead, Furnace Family specializes in top-quality air conditioning units that tie into a home's existing furnace and HVAC system for a complete home cooling solution. Makowski says the first step is an onsite consultation. "Air conditioners, like furnaces, can vary in efficiency, noise level, quality and warranty. We come into the home and discuss with the potential customer what's a good fit for their home and budget."
Article content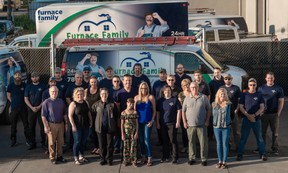 In some cases, customers have even been dissuaded from getting the most expensive system on the market. "In Calgary, you don't need that level of efficiency since you simply don't have the cooling hours you would have somewhere like the southern U.S. We try and customize a system [based on] what a customer really needs in their home."
Makowski says they can also explain the ins and outs of air conditioning system to those who aren't familiar with its functions, such as the SEER efficiency ratings and other important mechanisms.
For the most part, those who sweat through last summer's heatwave did so needlessly. Booking in advance is key — and arranging an installation early in the season can spell immediate relief for those without air conditioning. In a typical home, installing an air cooling system usually takes Furnace Family just one day. 
Article content
Makowski says easy installation can be accommodated in 85 per cent of homes, meaning there's no need to open walls or for other intrusive work. On average, the process takes just four to eight hours to complete.
In addition to the stifling heat Calgarians faced last summer, smoke from nearby forest fires also affected air quality, heightening the importance of healthy and comfortable indoor environments. That's why many opt to install additional air quality products, such as purifiers, humidifiers and filtrations systems in conjunction with their air conditioning installation. 
"We can create a perfect environment that keeps your home within a half a degree of temperature, be it summer or winter, and install top-of-the-line air purification," says Makowski. "Let's face it, most people spend eight to 12 hours a day [at] home, so let's breathe the cleanest possible air."As a full-service company, Furnace Family can handle homeowner needs whether it's for heating, air conditioning, plumbing, electrical or tankless water heaters — "if it's mechanical in your home, we can look after it."
Article content
The Calgary- and Edmonton-based company takes pride in being a local, family-owned business that prioritizes integrating its employees into the Furnace Family. "We're an employee-first company. And if our employees are first, they are going to make our customers first in return. We have really good online reviews because our employees care about doing a great job."
Looking to beat the summer heat this season? Get ahead of the crowds by booking an air conditioning consultation at furnacefamily.com.
This story was created by Content Works, Postmedia's commercial content division, on behalf of Furnace Family.
https://calgaryherald.com/sponsored/homes-sponsored/for-calgarians-looking-to-beat-the-summer-heat-now-is-the-time-to-install-air-conditioning